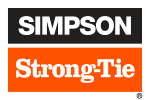 Calgary, AB – Simpson Strong-Tie and Calculated Structured Designs (CSD®) have agreed on a strategic alliance to provide customers with a Simpson Strong-Tie branded version of the iStruct® EWP software.
"Our current EWP software customers will have the option to migrate to this new platform that will provide enhanced 3D modeling, precision loading and flexible output," said Mike Bugbee, SVP and General Manager of Integrated Components Systems for Simpson Strong-Tie.
Plans are underway to incorporate elements of the current Simpson Strong-Tie EWP software into the new iStruct® program and to leverage CSD®'s software to enhance other Simpson Strong-Tie programs, including Component Solutions® Director and Truss Studio.
Simpson Strong-Tie will continue to support customers using its legacy EWP software until they can transition to the new iStruct® platform. Current CSD clients and users will not be impacted by the new software, and CSD will continue to offer their complete line of EWP software.
"We are excited to collaborate with CSD to jointly develop new software solutions for light-frame building while continuing to provide customers with our engineering knowledge and trusted level of service. CSD and Simpson Strong-Tie share the same focus on delivering efficient, flexible and easy to use software designed around what customers tell us they need," added Bugbee.
"The entire CSD family and I are very excited to be teaming up with Simpson Strong-Tie. We're confident that our joint efforts will deliver some of the best solutions available in the industry; today and into the future," said Sean Nason, President & CEO of CSD®.